Bona Fide emphasizes the importance of safety training and best practices in the work place. Each job site is reviewed with the utmost care to identify any and all safety risks
We endeavor to provide high-quality and reliable service, all while giving back to our community
Every facility and job site has it's own challenges and safety concerns.  Bona Fide emphasizes the importance of safety training and best practices in the work place. Each job site is reviewed with the utmost care to identify any and all safety risks, and a safety manual is then customized to address these risks and the precautions needed to eliminate any accidents.
Safety Procedures and Training
Every job site has periodic safety meetings, which are conducted by the Project Manager. The following list contains various topics that are covered:
The Hazard Communication Policy.
Chemicals present in their workplace operations.
Physical and health effects of the hazardous chemicals.
Appropriate work practices and controls when using chemicals.
Appropriate personal protective equipment per the chemical manufacturers' recommendations to wear when handling chemicals.
Special training regarding the disposal of hazardous products. Under no circumstances will hazardous chemicals be disposed of down drains in an improper manner.
Emergency and first-aid procedures.
Reporting accidents.
How to understand label information and review an MSDS to obtain appropriate hazard data.
Location of the MSDS file and written hazard communications program.
Additionally, any incident reports that might have been filed within 30 days will be addressed as well as any upcoming safety concerns there may be.
Training's serve as a reminder to use best practices and as educational courses for the workplace. It also allows an avenue for open communication for Project Managers and consumers to voice any questions or concerns they may have.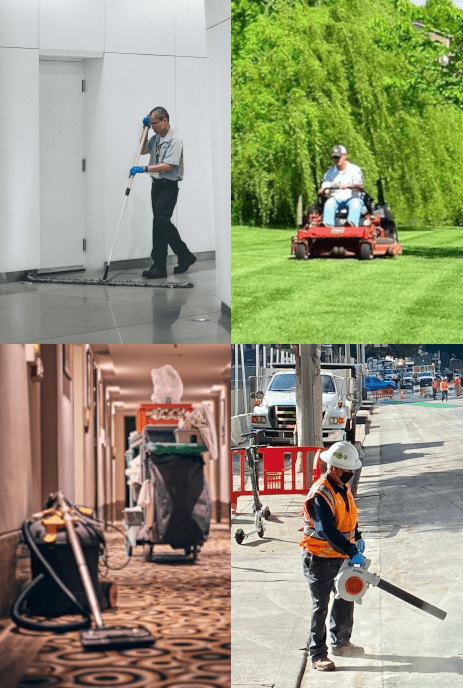 At Bona Fide, we believe in building strong roots within the community. Bona Fide seeks to work with local businesses, state and federal organizations, community leaders, educational institutions, and policymakers in order to generate more employment opportunities for persons with disabilities.
People living with disabilities can and should be employed and earn competitive wages.
   But many barriers exist that lead to people with disabilities being unemployed or underemployed, hindering the opportunity to achieve financial stability.  Many people get placed in "prevocational" programs and "disability-only" workshops where they are paid below minimum wage and have little expectation of moving into competitive jobs where they can work alongside people without disabilities. At times, these low expectations can foster job discrimination.
Even if employed, few people living with disabilities have opportunities to advance or explore new possibilities, let alone ever consider retirement.   At Bona Fide, we want to give your organization superior service, and our employees training and skills that can change the course of their lives.
Commercial Cleaning
Amazing cleaning from amazing people. We provide a host of cleaning services.
Grounds Maintenance
Our professional groundskeepers keep your outdoor areas clean, beautiful, and orderly.
Individual-Centered Program Planning
Everyone is different, and we work to ensure they're working to their skills
Individual-Centered Program Planning
Our employees create and meet their own work goals and discover greater independence!
Self-advocacy creates independence and empowers people to find solutions to unique challenges.  When you choose  Bona Fide for your maintenance and janitorial needs, you contribute to a program that helps people with abilities reach their goals.

Receive an accurate quote within 3-5 days when you fill out this form. Or, give us a call: (619) 873-1444